Qpids Feature on Manila Bulletin
Originally published on April 18, 2005
Get Love-struck with ABS-CBN's 'Qpids'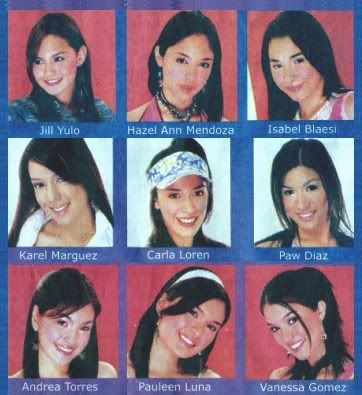 Note: photo layout has been rearranged to fit this blog's width
ABS-CBN brings back Valentine's love virus this summer with
Qpids
, the network's newest reality show and search for the next hottest love team. The brainchild of acclaimed director Laurenti Dyogi,
Qpids
will take you on exhilirating adventures for reel and for real, enlivened by colorful, magical, and fairy tale narration.
Hosted by Ann Curtis and Luis Manzano, the show will help each of the nine love princesses find her ideal man.
Qpids
top-bills promising Star Magic talents, making up several pairs who will go through a series of Loventures to test their chemistry and charisma. Under the direction of Jon Ilagan, the program also aims to give voice to the youth by showcasing their insights on love, relationships, and career.
Qpids features the freshest, prettiest faces of summer: Karel Marquez, Pauleen Luna, Hazel Ann Mendoza, Jill Yulo, Paw Diaz, Vanessa Gomez (Vanessa Grindrud), Carla Loren (Carla Humphries), Isabel Blaesi, and Andrea Torres. Trying to win the hearts of these nine love princesses are 18 prince charmings: heart-throbs John Wayne Sace, Carlo Aquino, Mhyco Aquino, Mikel Campos, Alwyn Uytingco, Janus del Prado, TJ Ramos, Aaron Concepcion, Marc Acueza, Marc Butler, Dominic Roco, Felix Roco, Michael Agassi, Cholo Barretto, Gian Carlos Castro, Timmy Boy Santa Maria, Marc Cortez, and Gabb Drilon.