Qpids Princesses on Homeboy
Note to fans and fansites: Please make your own copies of these images if you intend to post them on your site or on message boards. A link back to this blog will also be appreciated. Thanks!
The Qpids Princesses were the guests at Homeboy today, in an episode entitled "
Kapag tinamaan ka na ni Qpids
".
During the first part of the show, host Boy Abunda asked the eight Qpids Princesses (Karel Marquez was not in the studio) their opinions on a number of questions related to first love and courtship, including: "Is it okay for a girl to make the first move?" and "Which would you prefer in a relationship -- that you love the guy more, or that the guy loves you more?"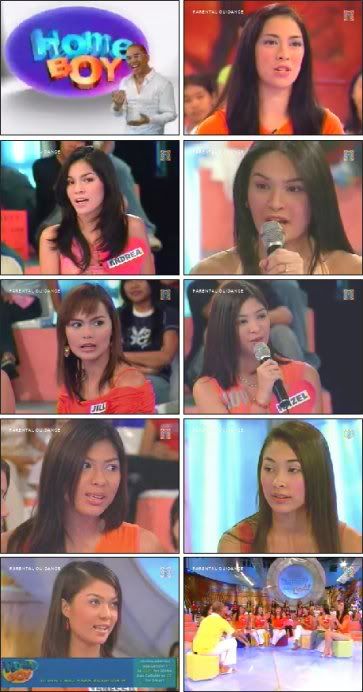 After a lively exchange of ideas, each of the Princesses were paired with two guys from the live audience. Each of the ladies asked the two men a question, and she had to choose one of them to be her "loveteam-for-the-day" based on their answers.
Once the eight loveteams were formed, each pair was requested to perform for the audience, and most
kaka-kilig
pair would be declared the winner. By audience vote, the winner was the pair of Qpids Princess Andrea.
...
CF's note: In my opinion, this is by far the best Qpids guesting so far. Handsdown to the person who conceptualized this episode! :)